Campaign for Ending Hunger
People Helping People to combat hunger in Maine.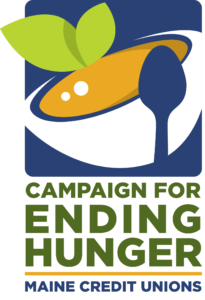 The Campaign for Ending Hunger has raised over $11.3 million since 1990 – over $930,000 in cash and food contributions in 2021 alone – with 100% of all funds raised going to organizations in Maine fighting food insecurity. We want to make sure individuals and families continue to have access to healthy, nutritious meals.
________________________________________________________________________________________________________________
Financial Fitness Fairs

The Maine Credit Union League and Maine's credit unions have a long history of providing financial education. Whether it's helping people during difficult times or introducing Financial Fitness Fairs to Maine students, people of all ages benefit from the resources, expertise, and knowledge offered by Maine's credit unions.
Currently we are not hosting these events in person, but the League has created an innovative, virtual platform that any student at any location can utilize. The virtual experience offers students a unique opportunity to receive the valuable budgeting tips they would get from an in-person fair from the comforts of their home or classroom.
Maine Credit Unions' Virtual Financial Fitness Fair utilizes Google Classroom, a service frequently used in school districts across Maine to create, distribute, and grade assignments. By seamlessly integrating with Google's offerings, the Virtual Financial Fitness Fair provides a turnkey budget simulation that is personalized for each student. Even if a school doesn't utilize Google Classroom, anyone with a Google account can participate.
What to Expect
The virtual experience closely resembles the traditional in-person fair. Students begin by choosing a career and are assigned a monthly income based on their career choice. Working with that income, students consider various expenses like housing, transportation, and student loan payments. Because each expense varies in cost, students must consider their options before creating a balanced budget. To successfully complete the online experience, which takes approximately one-hour, total spending per month must be less than their assigned monthly income.
The Benefits of "Going Virtual"
The Virtual Financial Fitness Fair is a remote learning tool that will help educate participants during this period of social distancing and beyond. Because the experience is self-guided, it is a convenient platform for schools following a hybrid model and for homeschooling families – as long as you have a Google account.
For more information, check out the Welcome Packet.
________________________________________________________________________________________________________________
Senior$afe Training Program
For years, the Maine Credit Union League and Maine Credit Union's have been leaders in working to prevent financial exploitation of the elderly through training, awareness and advocacy. Senior$afe was created in the effort to help Maine's elderly protect their finances. This program has become a model for the nation.
The Senior$afe training program, which is conducted through a partnership between the state, Legal Services for the Elderly, Area Agencies on Aging, MECUL and other financial services groups, involves helping staff recognize the signs of unusual financial activity and how to respond to certain situations when this occurs.