Campaign for Ending Hunger
People Helping People since 1990 with over $9.4 million raised to combat hunger in Maine.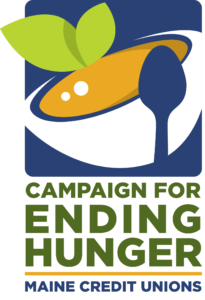 $832,332.62 raised in 2019 – a new record.
100% of all funds raised stay in Maine, and go directly to ending hunger.
Largest, non-hunger organization-based, philanthropic fundraising effort to end hunger in Maine.
303 non-profit hunger-related organizations in the state supported in 2019!
Signature social responsibility campaign for Maine's credit unions.
Financial Fitness Fairs

The Maine Credit Union League and Maine's credit unions have a long history of providing financial education. Whether it's helping people during difficult times or introducing Financial Fitness Fairs to Maine students, people of all ages benefit from the resources, expertise, and knowledge offered by Maine's credit unions. After all, consumers of all ages who know more about financial education are more likely to be successful.
Nearly 61,000 Maine students have gotten fiscally fit through one of our fairs, including 7,726 students during the 2018/19 school year!
To learn more about the fairs, download this informational brochure. Contact Jake Holmes to inquire about how to schedule a fair for the 2019/20 school year.
View the online version here. For log-in information, please contact the Maine CU League.
Senior$afe Training Program
For years, the Maine Credit Union League and Maine Credit Union's have been leaders in working to prevent financial exploitation of the elderly through training, awareness and advocacy. Senior$afe was created in the effort to help Maine's elderly protect their finances. This program has become a model for the nation.
The Senior$afe training program, which is conducted through a partnership between the state, Legal Services for the Elderly, Area Agencies on Aging, MECUL and other financial services groups, involves helping staff recognize the signs of unusual financial activity and how to respond to certain situations when this occurs.